Democratic Nominee – Cherelle PARKER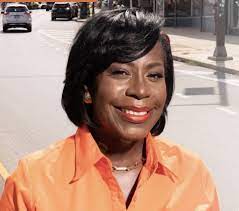 MAYOR
Cherelle PARKER
The 8th Ward enthusiastically supports our Democratic Nominee for Mayor, Cherelle Parker. Cherelle was chosen by Democratic voters in one of the most competitive and expensive Mayoral Primary contests in Philadelphia history. If elected, Cherelle will be our *first* woman Mayor, and we are proud to support her.
Cherelle brings extensive knowledge and relationships from her years of service in both City and State Government. Her lived experiences as a Black woman raised in Northwest Philadelphia have provided her a vision and a grounding that she will use to confront tough issues and hold all stakeholders to account. Cherelle's unapologetic cheerleading for our City, her command of the complex governmental systems and structures Philadelphia must navigate, and her ability to bring rival stakeholders to the problem-solving table, uniquely qualifies her to lead us forward in this crucial moment of change.
In the Primary cycle, our Ward was impressed by her vision and her courage to face tough conditions confronting our City, while moving us all forward to be the cleanest, greenest, safest Philadelphia we deserve to be. We look forward to uniting behind Cherelle and helping her succeed as our 100th Mayor.