8th Ward Endorsed – Isaiah Thomas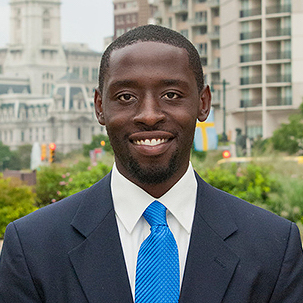 CITY COUNCIL AT LARGE
Isaiah THOMAS
The 8th Ward enthusiastically endorses Isaiah Thomas for re-election to City Council. The Ward has been impressed with Isaiah's responsiveness and follow through in constituent services. Isaiah combines citywide vision with block captain constituent care, which makes him a terrific representative for all Philadelphians. First elected to Council in 2019, Isaiah has advanced groundbreaking legislation that is being replicated in other cities. One of these, the Driving Equality Law, scores high marks as both practical and progressive. Using research and data, Isaiah made a practical impact on community policing by carving out 8 low-level traffic violations (often associated with pretextual stops) as insufficient on their own for a traffic stop, such as: driving with a damaged bumper, visible registrations affixed to the wrong spot, rearview mirror decorations, and the like. It is important to note that police are still tasked with pulling over drivers who commit other violations, like speeding or reckless driving or disobeying traffic signs. These 8 "technical" infractions cannot be the sole reason for the stop. This groundbreaking legislation has reduced the risks of danger and harm for both black and brown drivers who are stopped disproportionately, and the police officers who make the stop.
In addition to promoting better community-police relations, Isaiah's consistent top budget priority has been out-of-school time (OST) programming to get our young people safe, occupied, supervised and empowered to find their calling. He has also directed significant funds to improve community safety through additional security camera, removal of blight, witness & victim protection, as well as additional OST opportunities for young people. 
In this time of high turnover in City Council, we need Isaiah's experience, and we urge you to vote to send him back for a second term.