Democratic Nominee – Kay YU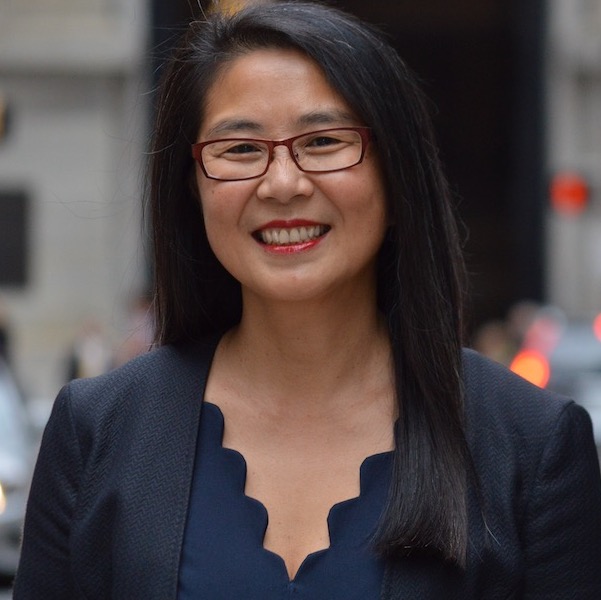 JUDGE of the COURT of COMMON PLEAS
Kay YU
**Rated Highly Recommended by the Philadelphia Bar Association
The 8th Ward urges you to vote for Kay Yu for Court of Common Pleas. If elected, Kay will be the first Korean-American Judge on the Court of Common Pleas. A graduate of Georgetown Law and Columbia University, Kay pursued a legal career after navigating her own immigration and naturalization process as a college student. Born in Seoul, Korea, Kay came to the US with her mother shortly after her third birthday. In middle school, Kay learned that she and her family were in the process of being deported.  Columbia University helped Kay get a student visa, and — thanks to the Immigration Reform and Control Act, she was able to apply for permanent residency under the Registry provisions of IRCA. The process of researching the new law and filing her own papers with INS, inspired Kay to go to law school. She became a naturalized citizen in 1993, the year that she graduated from Georgetown Law.
After graduating from Georgetown Law, Kay began her litigation practice, and her focus in ERISA cases. Kay moved to Philadelphia and practiced in two major law firms, ultimately becoming of counsel at Morgan Lewis and partner at Pepper Hamilton. In 2008, Mayor Michael Nutter appointed Kay to the Philadelphia Commission on Human Relations, where she became Chairman in 2009, and served until January 2013. At the Commission, she conducted adjudicatory hearings; presided over 11 public hearings to investigate inter-group conflicts in the School District of Philadelphia; spearheaded an overhaul of the Philadelphia Fair Practices Ordinance; and drafted a new set of procedural regulations for the Philadelphia Commission on Human Relations.
After her tenure at the Philadelphia Commission on Human Relations, Kay returned to private practice with Ahmad Zaffarese where she became a partner in 2013. Kay's practice was diverse, ranging from construction litigation, to counseling employers, to representing the City of Philadelphia and the Commonwealth of Pennsylvania in labor arbitrations.
From November 2019, through November 2020, she served as the Voter Protection Director with the Pennsylvania Democratic Party and the Biden/Harris Coordinated Campaign. In December 2020, she shifted her efforts to developing a full-time practice as a neutral arbitrator and mediator. In 2021, she was accepted as a member of the AAA's Consumer Panel as well as its Labor Panel. In the past five years, she has been assigned to act as a neutral arbitrator or mediator in nearly 60 cases. Kay has won many awards, including the Justice Sonia Sotomayor Diversity Award, and the Asian Pacific American Bar Association of Pennsylvania Attorney of the Year award.