Democratic Nominee – Tamika WASHINGTON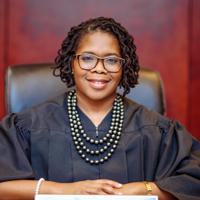 JUDGE of the COURT of COMMON PLEAS
Tamika WASHINGTON
*Rated "RECOMMENDED" by the Philadelphia Bar Association.
The 8th Ward urges you to vote for Judge Tamika Washington for Court of Common Pleas. Rated "Recommended" by the Philadelphia Bar Association, Judge Lane was appointed to the Court by Governor Tom Wolf in July 2022, to complete a term that ends on December 31, 2023. In order to return to the bench, she must win her election for a full 10 year term.
A graduate of Temple Law School and Brooklyn College, Judge Washington started her career representing employees in employment cases. Then she joined the City of Philadelphia Law Department as an Assistant City Solicitor, specialized in dependency matters, where she represented the Philadelphia Department of Human Services. As a City Solicitor, Judge Washington handled highly sensitive matters regarding neglected and abused children, termination of parental rights, and family reunification. She handled hundreds of cases simultaneously, taking lead responsibility for most cases from inception to discharge of the case from the court docket.
In 2009, she opened her own law firm where she returned to employee-side employment matters. Judge Washington also took Court Appointments to help indigent families in cases concerning allegations of neglect or abuse, and individuals accused of crimes in criminal court. Later, Judge Washington expanded her practice to include probate, real estate, and appellate matters in both Superior Court and Commonwealth Courts. Judge Washington's legal career has had the unique distinction of assisting clients both in the defense and pursuit of claims regarding fraudulent title (deed) transfer. In those cases involving an estate, Judge Washington takes pride in having helped families setting the affairs of a deceased loved one, so they can move on and find closure.
Before going to Law School, Judge Washington was the Deputy Director of Programming for the Foundation for Ethnic Understanding in New York, whose mission was to improve relationships between Jewish and African American communities in New York City. More recently, Judge Washington has served on the Board of My Place Germantown, a non-profit organization which provides housing and employment resources for disabled, homeless individuals.